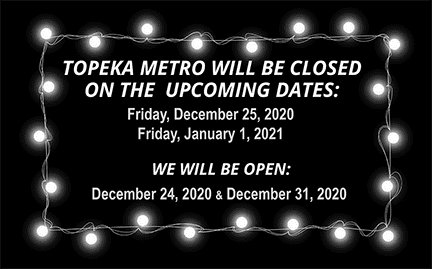 15/12/2020 by Topeka Metro
Topeka Metro Holiday Schedules
Just a reminder that Topeka Metro will be CLOSED on Christmas Day and New Year's Day--both on Fridays.

We will be OPEN Christmas Eve Day and New Year's Eve day. Everyone at Topeka Metro wishes you all the happiest of holidays and we thank you for riding with us this year. We know it has been a strange year, but hopefully, we will get back to normal soon.

Stay safe and warm everybody!
Feed