SOTO Ride-to-Work Program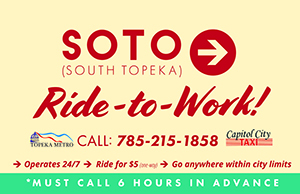 Call Capitol City Taxi today to schedule your ride: (785) 215-1858.
Employees of these businesses can call Capitol City Taxi to schedule 1-way rides to or from work for $5:
Rides to work must be booked at least 6 hours in advance, but return rides home can be requested on-demand to provide flexibility if your workday is longer than anticipated.
Standing trips may be reserved if you travel to work at the same time every day.
Passengers must show their associated ID from one of the five businesses listed above, and only cash will be accepted. Capitol City Taxi will wait 5 minutes from the scheduled pick-up time before reporting a "No Show." A pattern of No Shows may result in the passenger not being able to use the service.
Call Capitol City Taxi today to schedule your ride: (785) 215-1858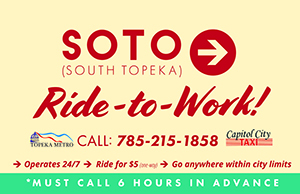 Cuesta sólo $5 (unidireccional)
El programa de tránsito público, "SOTO Viaje-al-Trabajo," empieza el 15 de Diciembre de 2017 y continua por un ano. Programe un viaje con Capitol City Taxi (CCT) hacia o desde las siguientes empresas:
A todas horas, todos los días
Reserve su viaje 6 horas antes.
¿Trabaja la misma hora cada dia? ¡No hay problema! Pide una reserva permanente para satisfacer sus necesidades.
¿No sabe cuando saldrá del trabajo? ¡No hay problema! Servicio a pedido está disponible para salir del trabajo al fin del día.
Hay viajes que estan accesible por ADA.
Hay que mostrar su identificación de asociado.
Hay que pagar en efectivo.
CCT espera sólo 5 minutos desde la hora de recogida antes de reportar una ausencia.
No se permite viajar despues de un patrón de ausencias.
¡Llame hoy a Capitol City Taxi para reservar su viaje! (785) 215-1858